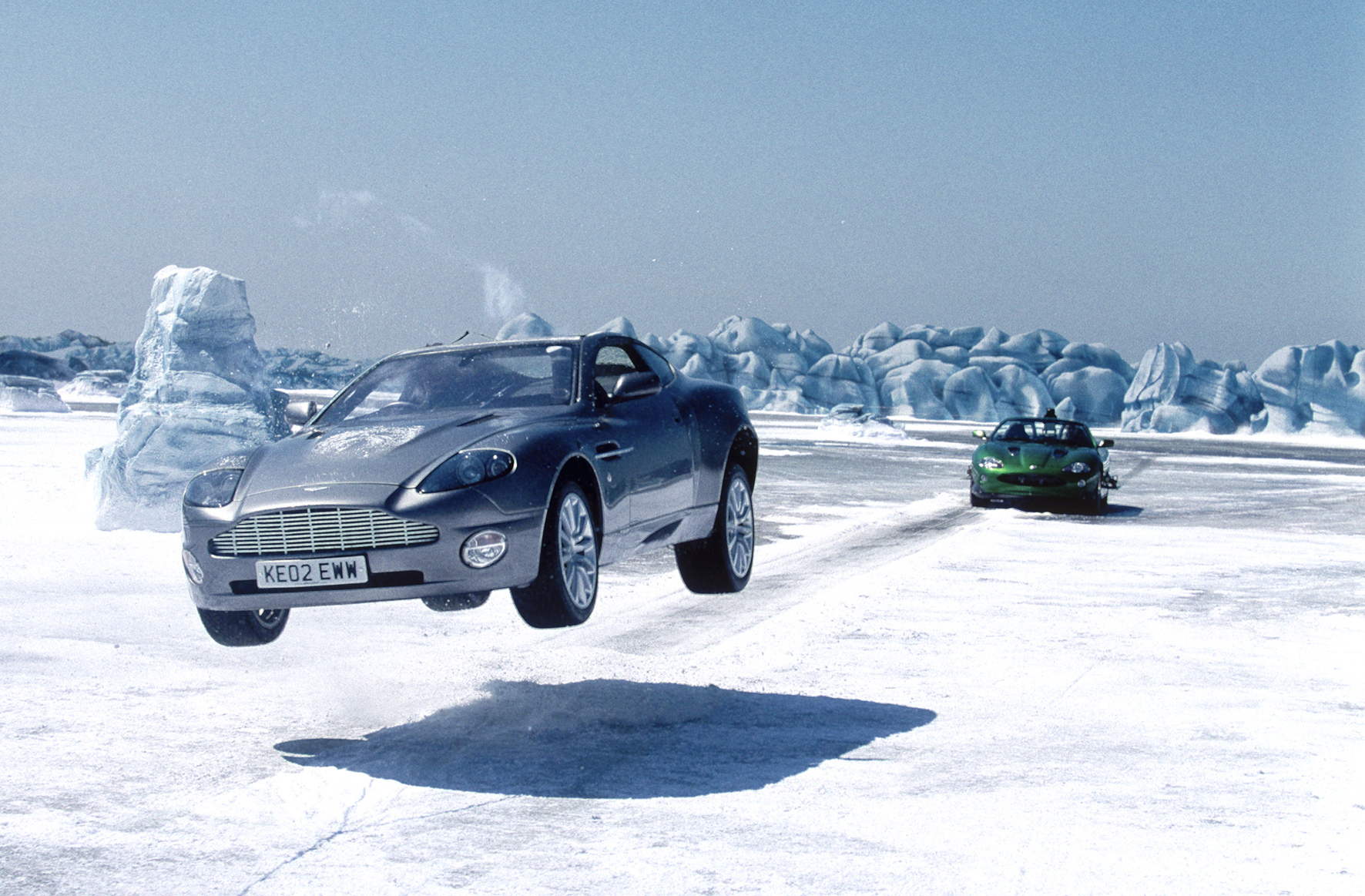 It goes without saying that there have been some seriously captivating car chases in the previous Bond movies.
These cars are not only designed to perfection, but that they are fully equipped with the most incredible technology and weaponry.
Only the most magnificent supercars for the worlds least covert spy of course!
1. The BMW 750l – Tomorrow Never Dies
Chase location: China, Carver Media Group Car park
Gadgets: Mini-missiles on the sunroof, metal spike dispensers, re-inflatable tyres, tear gas and best of all, remote control driving through a Q-customized mobile phone.
Best stunt: Jumping into the smashed rear window of the BMW whilst in motion
2. The Aston Martin V12 Vanquish – Die Another Day
Chase Location: The frozen wastes of Iceland and the Ice Palace.
Gadgets: Missiles, spiked tyres, target-seeking guns, ejector seat and best of all the adaptive camouflage technology.
Best stunt: When all hope is lost, bond regains his camouflage, engages his spiked tyres and drives up the wall.
3. The Aston Martin DBS V12 – Quantum of Solace
Chase Location: Siena, Italy
Gadgets: It actually doesn't have any flashy gadgets! But it's still a pretty impressive car, and (spoiler alert) will be featured in Skyfall! Bond actually drives M to bonnie Scotland in this car.
Best stunt: When the impact of Bonds machine gun forces the last car in the chase over the cliff side.
4. Lotus Esprit, The Spy Who Loved Me
Chase Location: Beautiful Sardinia, Italy
Gadgets: submarine, rockets, underwater rockets, oil slick delivery, mines
Best Stunt: A high speed jump off the pier into what would be certain death but not for Bond. The infamous Lotus that turns into a submarine to escape the female assassin in the helicopter.
Aston Martin DB5 vs Ferrrari, GoldenEye

Chase Location: Monte Carlo, Monaco
Gadgets: no gadgetsThe car is then fitted with an Alpine 7817R car radio that doubles as a printer and communication device to head office.  The champagne cooler between the seats is the piece de resistance.
Best Stunt: Bond racing his DB5 down a steep mountain road against Bond baddie Xenia in her striking red Ferrari 355 GTS. Bond is asked to "Stop this car at once" by Caroline, the woman sent to evaluate him. Cue, cool Handbrake stop, smooth lines of seduction and hidden champagne on ice.
By Sarah L