FOSSiBOT F2400 Portable Power Station + FOSSiBOT SP200 18V 200W Foldable Solar Panel
---
Please note: The Portable Power Station and Solar Panel will ship separately from the different warehouses.
Highlights
2400W Output, 2048Wh LiFePO4 Battery
Super large capacity 2048Wh/640000mAh portable power supply has 2400W rated output. Equipped with 3 AC power sockets, 6 USB output ports, and 4 DC output ports, it can be used for most devices like rice cookers, TVs, electric blankets, electric kettles, hair dryers, tools, and even higher power appliances (such as electric stoves, electric microwave ovens) and refrigerator.

Bidirectional Inverter Technology
FOSSiBOT portable power station adopts the latest bidirectional inverter technology and the perfect combination of intelligent input power adjustment knobs. The input power reaches 1100W and can realize 0-80% charge in 80 minutes, fully charged in 1.78 hours.

Intelligent Input Power Adjustment Knob
F2400 solar power station, with 300W, 500W, 700W, 900W and 1100W input power protection power supply, the charging speed is completely controlled freely, the adjustment knob can keep the input voltage constant, greatly extend the service life of FOSSiBOT F2400, protect your equipment.

3 Charging Methods
Direct plug-in charging from mains, solar charging, and car charger. If you choose to charge solar energy and mains at the same time, the charging power is up to 1600W input, and you can charge 0-80% in 70 minutes. It can be fully charged in 90 minutes, faster than any other solar generator.
13 Outputs
1x Car Charger Output, 12V/10A
1x XT60 RV Output, 12V/25A
2x DC 5521 Output, 12V/3A
2x USB Output (QC3.0)
4x USB Type-C Output (3xPD 20W, 1xPD 100W)
3x EU-Plug AC Output (220V-240V)

Solar Panel
23.4% High Solar Conversion Efficiency
With up to 23.4% high-efficiency monocrystalline solar cells, SP200 performs better than similarly rated polycrystalline solar panels at low-light conditions. It allows you to enjoy your outdoor adventures absorbing solar energy while hiking, camping, RVs, trailers, boats, sheds, and cabins
Durable, Waterproof and Scratch-resistant
Adopting advanced laminated technology and long-lasting ETFE material on the surface, it is more durable and scratch-resistant. The panel is also manufactured in accordance with the IP67 waterproof standard, making it ideal for outdoor activities, such as camping, climbing, hiking, and even in poor weather conditions.
Wide Compatibility
Uses MC*4 connector, this 200W solar panel is designed to be used with most solar generators on the market, including any of the FOSSiBOT solar generators (F1200/F2400/F3600).
Foldable and Portable
Lightweight and foldable design, easy to carry with a portable protective case. Sturdy stand for an easy solar charging setup outdoors.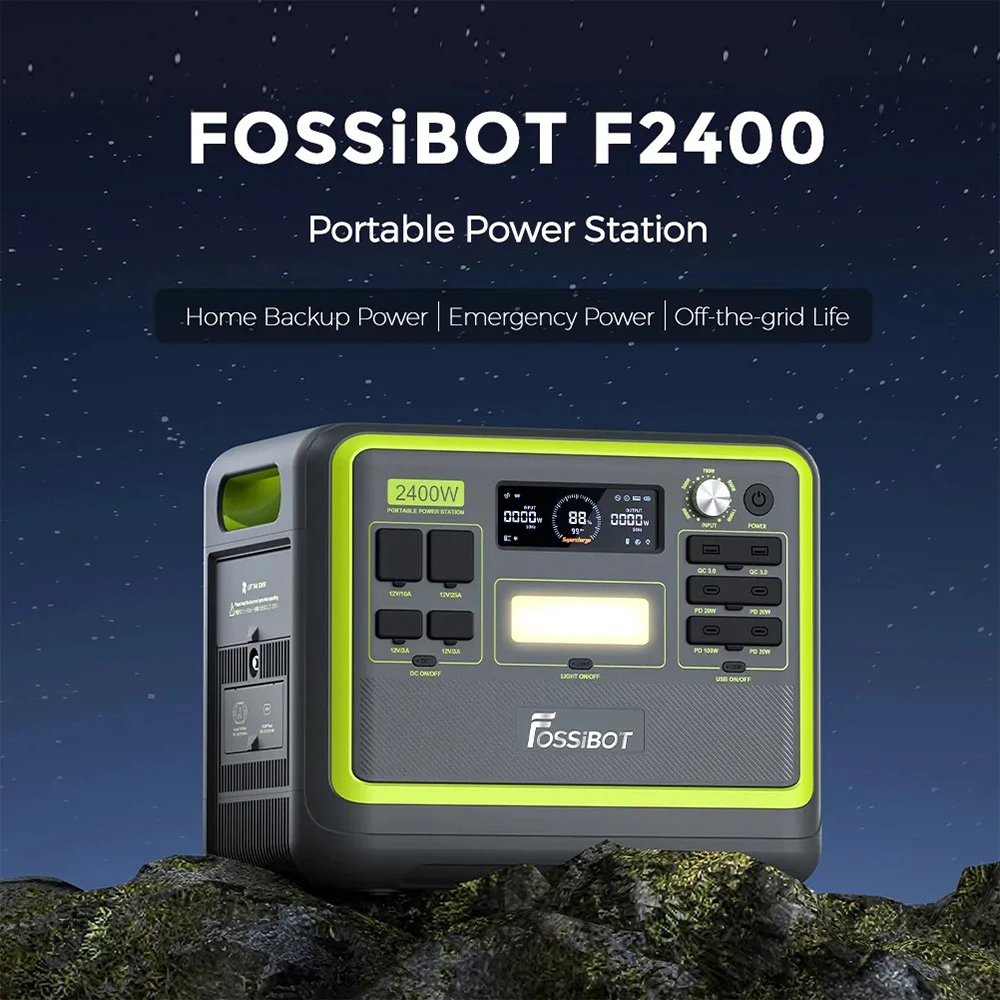 Specification
General
Brand: FOSSiBOT
Type: Portable Power Station
Model: F2400
Color: Black
Specification
Battery Type: LiFePO4 battery
Capacity: 2048Wh/640000mA
Operating Temperature: 0-40 celsius / 32-104 Fahrenheit
Storage Temperature: -10-40 celsius / -4-104 Fahrenheit
Humidity: 5%-95%
Cooling Strategy: Fan x 7
LED Lighting: Power 1W, Warm tone

AC Output: Rated Power 2400W, Pure sine wave, 3-port output, Surge Power 4600W
Rated Frequency: 50Hz/60Hz
Output Voltage: EU 220-240V AC
Inverter Efficiency: η=90%
USB-A Output: QC3.0 x 2 (5V3A/9V2A/12V1.5A)
Type-C Output: PD 20W x 3 100W x 1 (5V3A 9V3A 12V3A 15V3A 20V5A)

DC Output
XT60: 12V/25A x 1
DC5521: 12V3A socket x 2
Cigar Lighter: 12V10A socket x 1

Input
AC Super Charge: 1100W, EU(AC 220-240V/50Hz,10A),US/JP(AC 100-120V 50Hz/60Hz,10A)
Solar Charging: 12V-48V/15A  MAX500W
Car Charging: 12V/8A, 24V/10A
Weight & Size
Product Weight: 22Kg
Package Weight: 24Kg
Product Size(L x W x H): 38.6cmx28.4cmx32.1cm
Package Size(L x W x H): 48.4cmx36.8cmx44.1cm
Package Contents
1 x F2400 Power station
1 x Power Cord
1 x Vehicle Charging Cable
1 x Solar Charing Cable
1 x User Manual

1 x Solar Panel